Sakudari Kannon
左下り観音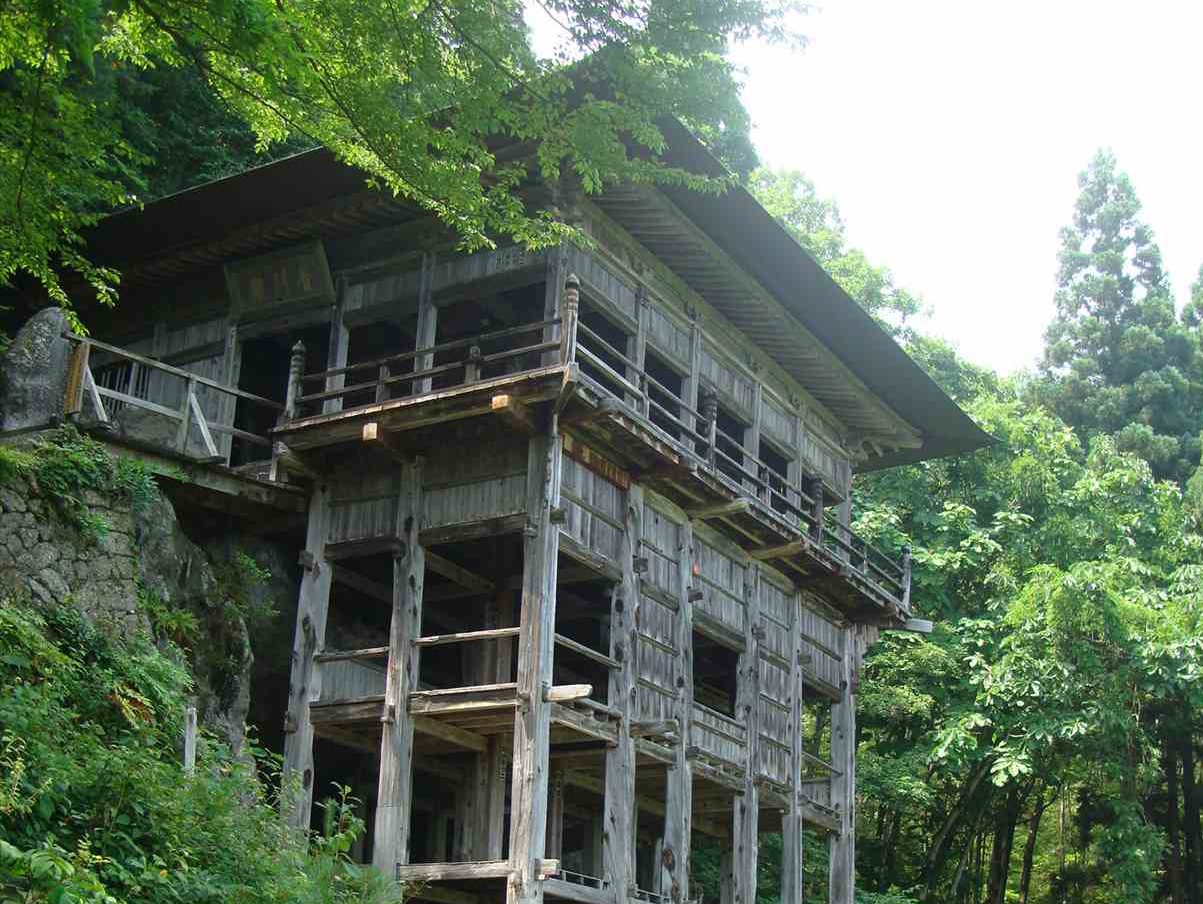 The 21st of Aizu's 33 Kannon pilgrimage sites
The 21st of Aizu's 33 Kannon pilgrimage sites is Sakudari Kannon of Rinzaishu Sakudariyama Kannon-ji Temple.
A splendid three-story structure built by cutting into the stone on a mountainside. It is a scenic spot from which Mount Bandai can be viewed from the edge of the veranda and a large, clear Okawa River can be viewed below.
Stories about the hidden stone Buddhist statues continue to be told to this day.
Sho Kannon

Sakudari ha iwa ni sobiete kakezukuri Itsumo taesenu mine no matsukaze

左下りは岩に聳えて懸造り いつも絶えせぬ峯の松風

Sakudariyama Kannon-ji Temple, Sakudari Kannon-do Hall

This hall is thought to have been built by the monk Tokuitsu in 830.

Kubinashi Kannon

The stone statue of Kubinashi Kannon is enshrined within.

Entrance to Sakudari Kannon

Kannon-do Hall is located at the top of an approximately 1,000 mountain path. The path grows smaller and smaller as it goes up, but it is supplemented by the enjoyable scenery visible as you climb.

View from Kannon-do Hall

The whole of the Aizu Basin can be viewed from Kannon-do Hall.

Name

Sakudari Kannon

Japanease

左下り観音

Area

Aizumisato Town 

Genre

Aizu's 33 Kannon Prefectural Important Cultural Properties 

Address

HigashiSakudari-1173, Oishi, Aizumisato Town, Onuma District, Fukushima

Access

8 min from Ashinomaki-Onsen Station by car. 10 min on foot from the mountainside parking lot.

Parking Lot

Yes (6 spaces)

Information

Feel free to use the the prefectural roadside parking lot. 20 min on foot from the prefectural roadside parking lot.
Please wear comfortable walking shoes when visiting and bring bear bells with you.

Contact

Aizumisato Town Tourism Association

Tel

0242-56-4882