Suzumebayashi Kannon
雀林観音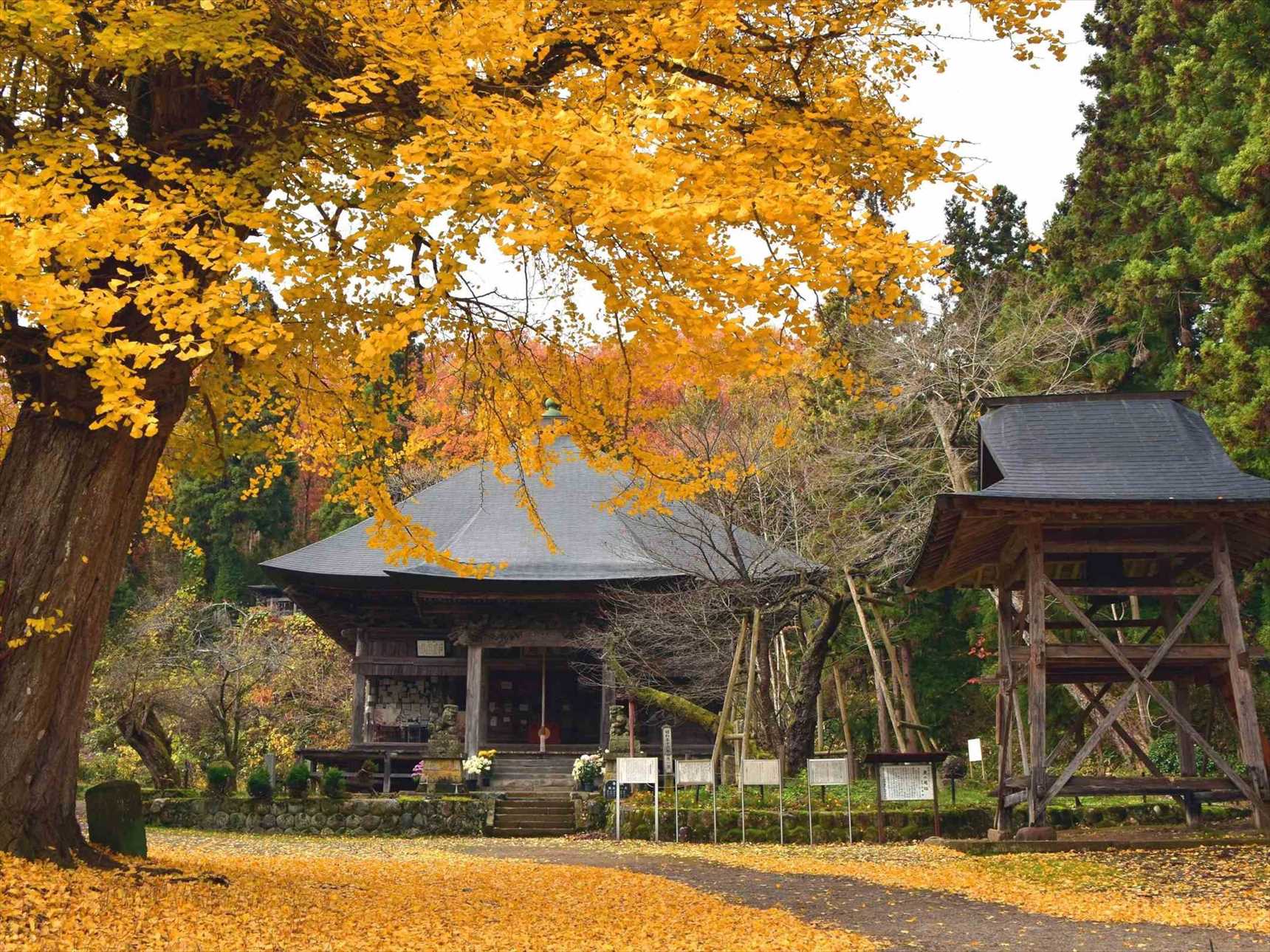 The 29th of Aizu's 33 Kannon pilgrimage sites
The 29th of Aizu's 33 Kannon pilgrimage sites is Suzumebayashi Kannon of Tendaishu Raidensan Hoyo-ji Temple.
One of the oldest temples in Aizu, built in 720 by Saint Tokudo. Once considered the center of Buddhist culture in Aizu until the monk Tokuitsu opened Enichi-ji Temple and spread Buddhism all throughout Aizu.
Juichimen(Eleven faced) Kannon

Megurikite nish wo haruka ni nagamureba Ametsuyu sigeki hurukata no numa

巡り来て西を遥かに眺むれば 雨露繁き古方の沼

Wooden Juichimen(Eleven faced) Kannon standing statue, Wooden Juichimen(Eleven faced) Kannon standing statue

There are two wooden standing statues of Juichimen(Eleven faced) Kannon, one of katsura wood and one of Japanese elm.

Zushi and Butsudan shrines in the Hoyo-ji Temple Kannon-do Hall

The oldest zushi shrine in Aizu.

Wooden Kongo Rikishi standing statue

Made in the Fujiwara period, at the end of the Heian period. Also known as a Nio statue.

Hoyo-ji Temple three-storied pagoda

The only pagoda remaining in Aizu, completed in 1780. There is little difference in the size of the roofs on each story, making this known as the most beautiful pagoda in Fukushima prefecture.

Wooden Tokudo Shonin(Saint Tokudo) seated statue

Thought to have been built at the end of the Kamakura period, this katsura wood statue is made in a joined block construction with eyes made of crystal inserted.

Juichimen Kannon Hangi(woodcut)

This woodcut retains an ancient model, and is a very valuable artifact thought to have been carved in the early Muromachi period.

Bronze bell

Estimated to have been made in 1474, located in the bell tower beside the Toranoo Sakura Tree.

Statues of the 33 Kannon in the Kannon-do Hall of Hoyo-ji Temple (19 remaining)

There were originally 33 statues to match the 33 forms of the bodhisattva Kannon, who transforms to provide salvation to the suffering, but only 19 statues remain.

Chuyahutaiban("Day and night determined duty") board

Believed to be an old community notice.

Hoyo-ji Temple Raiban

A seat of worship used by the head priest or a high-ranked person during services.

Copper-plated hanging lantern

A copper-plated hexagonal lantern with a height of 36 cm.

Tora-no-o Sakura(Cherry Blossom) Tree

Located in front of the Kannon-do Hall. It is one of Aizu's five famous cherry blossom trees.
A double-flowered sakura tree whose leaves bud somewhat in advance. Named the "Toranoo Sakura Tree" because the appearance of the petal-like stamen resembles a tiger's tail.
Flowers bloom between the end of April and the start of May.

Name

Suzumebayashi Kannon

Japanease

雀林観音

Area

Aizumisato Town 

Genre

Aizu's 33 Kannon National Important Cultural Properties Prefectural Important Cultural Properties Town Designated Cultural Properties 

Address

Sanbanyamashita-3554 Suzumebayashi, Aizumisato Town, Onuma District, Fukushima

Access

15 min from Aizu-Takada Station by car

Parking Lot

Yes (10 spaces)

Information

Up to 45-seat motor coaches can enter the premises.
Buses that seat more than 45 people cannot enter the premises. They must wait at the entrance.

Contact

Aizumisato Town Tourism Association

Tel

0242-56-4882