Torioi Kannon
鳥追観音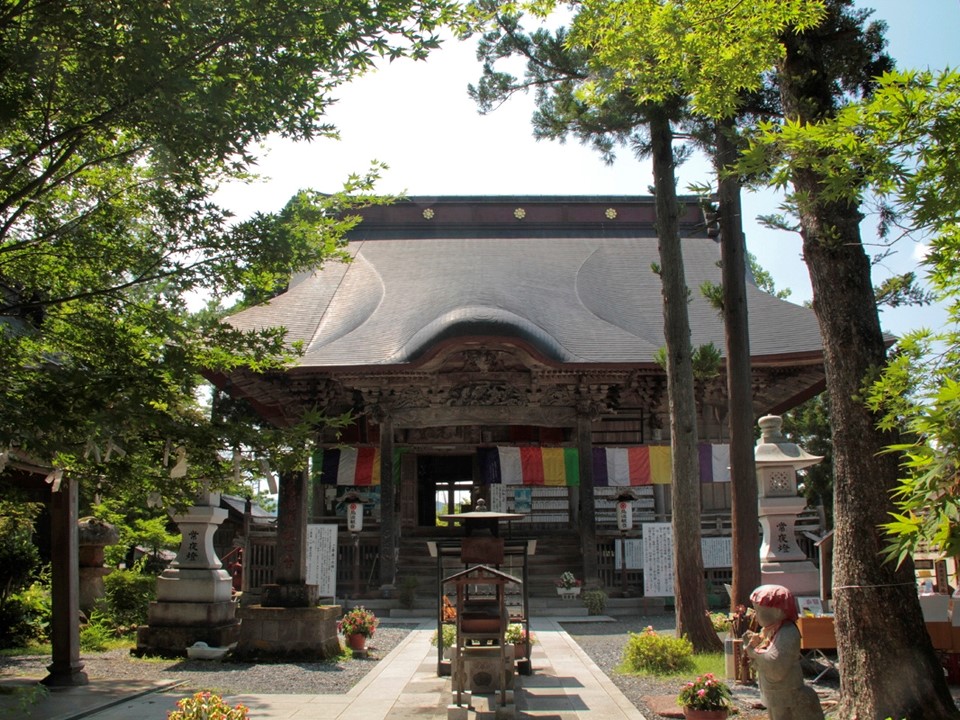 The 3rd 'Bangai'(an additional temple) of Aizu's 33 Kannon pilgrimage sites, one of the Korori Three Kannon
Opened by Tokuitsu in 807 as Aizu's "Western Paradise". Visitors enter the hall from the east and exit from the west, a form that is rare in Japan. This is thought to allow one easy passage into the Western Paradise through Kannon's guidance.
Sho Kannon

Kanekowakiyama no gotoki no norinotera Makoto daihi no jodo naruran

金剛き山の如きの法の寺 まこと大悲の浄土なるらん

Niomon Gate of the Nyoho-ji Temple Kannon-do Hall

Niomon, the front gate of Kannon-do Hall, was rebuilt along with the hall after both fell down in the Aizu Earthquake of 1613.

Hidari Jingoro's "Kakure Sanzaru"

This carving of three monkeys is said to have been carved wholeheartedly by Hidari Jingoro, the artist known for making the three wise monkeys of Tosho-gu Shrine in Nikko.
The belief is that if you find the three hidden monkeys after praying for Kannon's mercy and compassion, your fortune will expand like the tight bud of a flower suddenly coming into bloom.

Nyoho-ji Temple, wooden Kongo Rikishi standing statue

Visitors rub the Kongo Rikishi statue, followed by their own bodies, and pray for protection from misfortune.

Nyoho-ji Temple, wooden Sho Kannon standing statue

A "hibutsu" statue that is not shown to the public. Visitors are allowed to view the seated Sho Kannon statue shown in the photo. It was built in the Muromachi period.

A 1,200 year old umbrella pine

A 1,200 year old umbrella pine. The largest tree in the Tohoku region.

Dakitsuki(embracing) pillar for luck in marriage

It is said that visitors who embrace the "Devout Man Pillar" and the "Devout Woman Pillar" located in the Kannon-do Hall will be guided to a suitable partner by Kannon.

Name

Torioi Kannon

Japanease

鳥追観音

Area

Nishiaizu Town 

Genre

Aizu's 33 Kannon Aizu's Korori 3 Kannon Prefectural Important Cultural Properties Town Designated Tangible Cultural Properties 

Address

Nyohojiotsu-3533 Nozawa, Nishiaizu Town, Yama District, Fukushima

Access

5 min from Nozawa Station by car

Parking Lot

Yes (50 car spaces, 10 bus spaces)

URL

Information

Viewing hours:
April - November, 8:30 a.m. - 4:00 p.m.
December - March, the temple may be closed due to heavy snow. Please call ahead.

Contact

Torioi Kannon Nyoho-ji Temple

Tel

0241-45-2061