A shuin is a document with the name of a Shinto or Buddhist temple or shrine stamped in red ink and written on in black ink. Shuin started as proof of authentication when presenting transcribed sutras. Today, they are offered as proof of visiting a shrine or temple. Shuin differ by temple and shrine, and since each character is stamped and written out by hand, each and every one is unique, unlike a printed copy. (However, there may be cases in which the shuin has only a stamp and no handwritten characters.) It serves as proof that you visited a temple or shrine, and also makes for a fun memento of your trip. A shuin has the name of a temple or shrine written on it, so is should be treated carefully and with respect just like an amulet or talisman.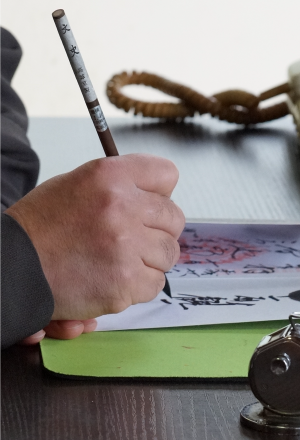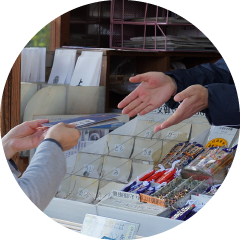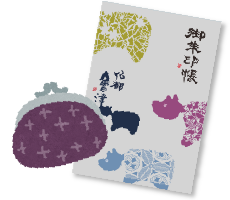 Ask for the Goshuin and open your shuin book(Goshuin stamp book) to the page you want it printed on.

Show respect to the shuin and say "Thank you." to show your thanks.

The price for a shuin differs from place to place. It's best to always keep coin money on your person to reduce change.

Carefully handle your shuin and preserve it safely.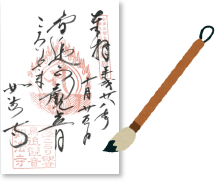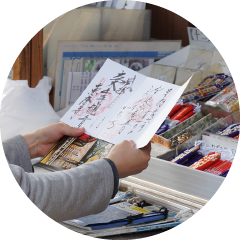 Using a dedicated shuin book is recommended when receiving shuin. Why not take a shuin book with you as you visit the Japan Heritage designated cultural assets of the 33 Kannon in Aizu?
● Aizu Korori Three Kannon Shuin Book
This dedicated shuin book for the Aizu Korori Three Kannon can be received for free at the Nakata Kannon, Torioi Kannon, and Tachiki Kannon.
● Aizu's 33 Kannon Shuin Book
This dedicated shuin book for the Aizu's 33 Kannon Pilgrimage is sold at Tachiki Kannon. (for sale)
● MADE IN AIZU Shuin Book
There is also a lovely shuin book designed by Aizu locals based on the 350 year old Aizu traditional "Aizu-gata" dying fabric and made by Aizu artisans. (for sale/available by mail order)

● There are many temples without a designated parking lot, so visitors who come by car should park out of the way.
● There are Kannon-do halls that can only be reached by mountain path. Wear comfortable walking shoes when visiting.
● Bears may live near Kannon-do halls located in the mountains. Bring bear-repelling bells or play loud noise on your cell phone to keep them away.
● Kannon-do halls are historical cultural assets, but they are also places of worship. Please remain calm during your visit and not make any reckless actions.