Ouchi-juku and 33 Kannon, day trip course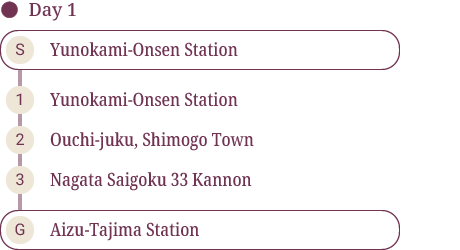 Take a stroll through Ouchi-juku, a post town which retains the tastes of the Edo period, an visit the Nagata Saigoku 33 Kannon.

11:00 Depart from Yunokami-Onsen Station
Aizu Railway's Yunokami-Onsen Station is known for its rare station house with a thatched roof. The station is also known for the beautiful view formed from the thatched roof house and the surrounding sakura trees when they are in bloom. There is also a footbath nearby the station where travelers can refresh themselves in the waters of the Yunokami Onsen.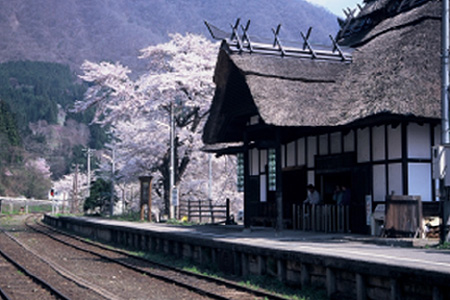 10 min by car
Ouchi-juku is a post town on the Shimotsuke Kaido road. On both sides of the road are thatched roof houses that served as important rest stops for feudal lords and other travelers on their way to Edo. The town is famous for Negi-Soba, which is eaten using a stem of Welsh onion in place of chopsticks.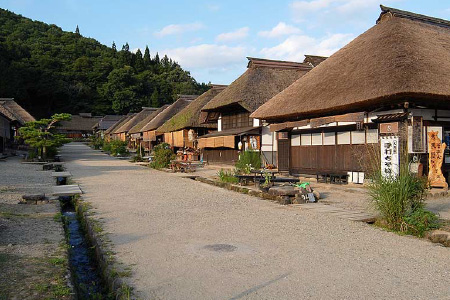 50 min by car
These 33 Kannon statues line an approximately 3 kilometer mountain road. They were carved over a period of 72 years, bringing many visitors to the area from long ago. It is said that traveling the length of this road brings one the same blessings as visiting the Saigoku 33 Kannon.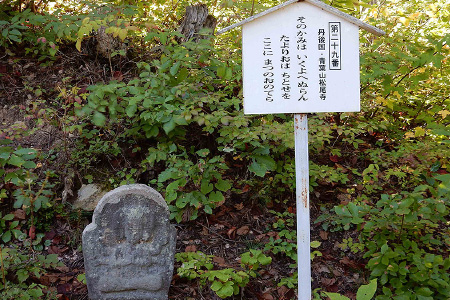 10 min by car

15:00 Arrive at Aizu-Tajima Station