Buddhist Statue Pilgrimage
Central area

Western area

Northern area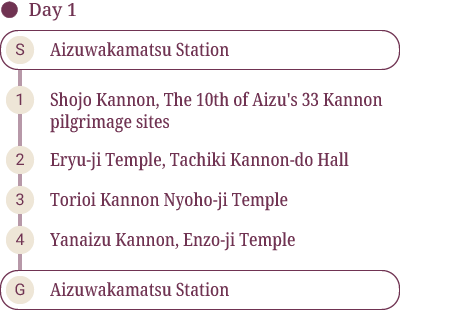 A day trip to visit the many Buddhist statues remaining from when Aizu a prosperous Buddhist area in the Tohoku region.

10:00 Depart from Aizuwakamatsu Station

20 min by car
Shojo-ji Temple is an ancient temple that represents the Tohoku region, established by Tokuitsu in 807. With a history of 1,200 years, it houses 12 National Treasures and National Important Cultural Properties that represent the Tohoku region.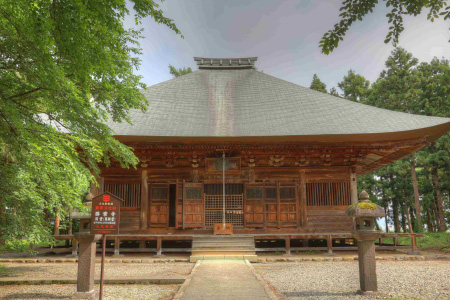 25 min by car
Standing at just over 7 meters high, this giant Senju(Thousand-armed) Kannon statue was carved directly into a sacred katsura tree, and it is said that the tree's roots still remain beneath the statue.


30 min by car
A Kannon temple opened by Tokuitsu. It is one of the Aizu's Korori Three Kannon and is counted as an extra temple added on to the Aizu's 33 Kannon. The principal object of worship of Toroi Sho Kannon was made by Gyoki, and the "Kakure Sanzaru" said to have been made by Hidari Jingoro are also a must-see. Receive a shuin seal dedicated to the Korori Three Kannon and make a good travel memory.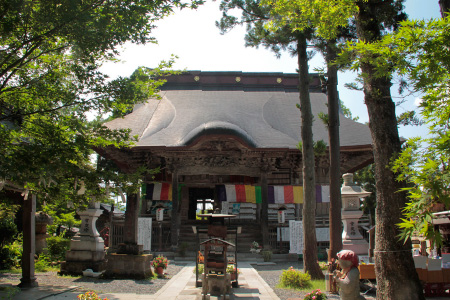 30 min by car
Enzo-ji Temple is an ancient temple standing alongside the Tadamigawa River, which flows through Yanaizu Town. It is said to have been built by Tokuitsu, the Father of Aizu Buddhism. It is also said to be the birthplace of the traditional Aizu toy known as Akabeko. Legend says that when a great earthquake destroyed the temple's main hall, a herd of red cattle appeared to help rebuild it, and the Akabeko(red cattle) toy based on them became a symbol of change, perseverance, and power in addition to bringing luck.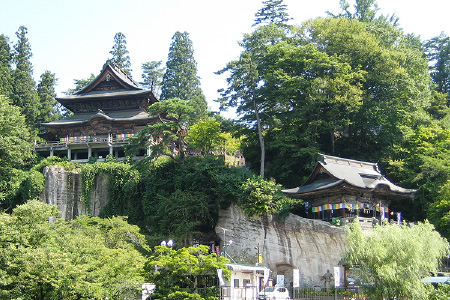 50 min by car

16:00 Arrive at Aizuwakamatsu Station