Aizu's Korori Three Kannon Pilgrimage
Central area

Northern area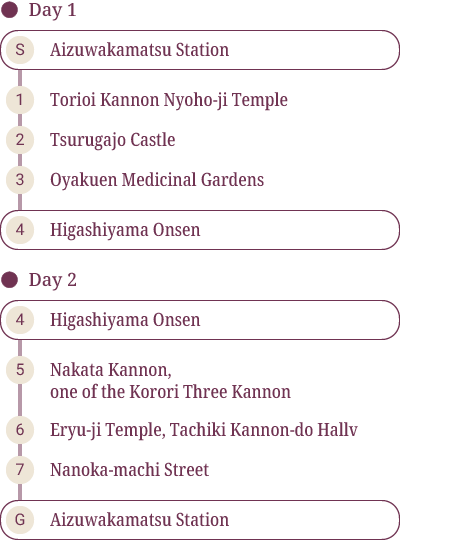 Enjoy Aizu cuisine and visit the Korori Three Kannon.
There is a belief in the Korori Three Kannon in Aizu, bringing many people who hope to have their prayers answered.

10:00 Depart from Aizuwakamatsu Station

50 min by car
A Kannon temple opened by Tokuitsu. It is one of the Aizu's Korori Three Kannon and is counted as an extra temple added on to the Aizu's 33 Kannon. The principal object of worship of Toroi Sho Kannon was made by Gyoki, and the "Kakure Sanzaru" said to have been made by Hidari Jingoro are also a must-see. Receive a shuin seal dedicated to the Korori Three Kannon and make a good travel memory.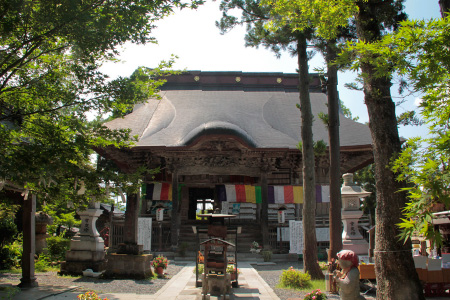 60 min by car
Day 1

A famous castle with a tower that looks like a crane. It is a symbol of Aizu that is thought of as a must-visit spot by both locals and tourists. The castle center is used as a museum to display various artifacts of the castle. Many visitors also go to see the Prefectural Important Cultural Property in the castle, Chashitsu Rinkaku, the tea ceremony room said to have been built by Shoan, son of the tea master Sen no Rikyu. From 12:00 noon, a Tsurugajo Castle bell ringing experience is led by a volunteer tour guide.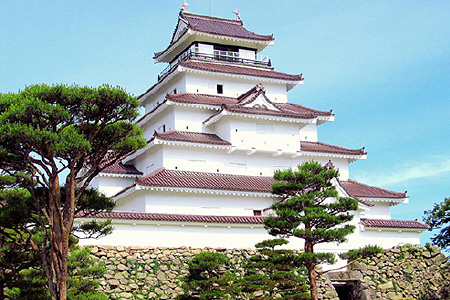 Approx. 10 min by car
Medicinal gardens for Aizu domain purveyors and gardens built by the successive Aizu feudal lords. Its name is derived from the circuit style garden that incorporates a pond shaped like the Chinese character "心" (kokoro) in its design, and the medicinal garden that grows a variety of medicinal herbs. Observe the gardens loved by successive feudal lords of Aizu while enjoying a delicious special herbal tea and sesame jelly called "Goma Yokan".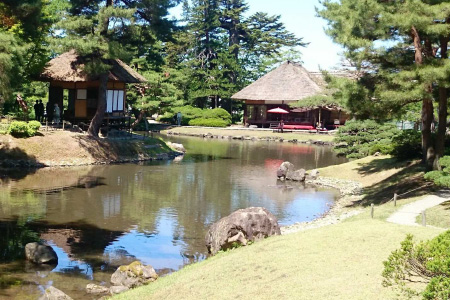 Approx. 10 min by car
The waters of Higashiyama Onsen, known as the annex of Aizu, are said to have been discovered by the monk Gyoki 1,300 years ago. Enjoy the splendid food, local sake, and hot springs of Aizu.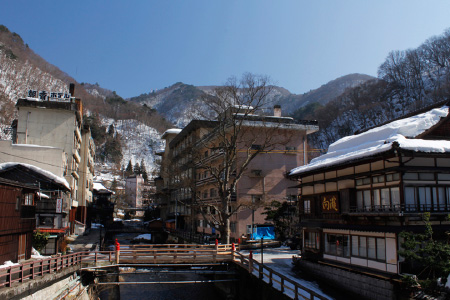 35 min by car
The 30th of Aizu's 33 Kannon pilgrimage sites is Nakata Kannon of the Sotoshu Fumonzan Koan-ji Temple. Shika, mother of the famous doctor Hideyo Noguchi—the bacteriologist who discovered the cause of syphilis and is pictured on the 1000-yen bill—, was a devout follower of this temple. It is said that she prayed here for her son's burns to be healed and for his social success, and that she prayed all day in the temple on the 17th of each month. These stories are left behind in the temple with a photo of mother and son visiting together. One of the Aizu Korori Three Kannon, this temple receives worshipers from near and far who come to put their arms around the "Dakitsuki(Embracing) pillar", which is said to make visitors' desires come true.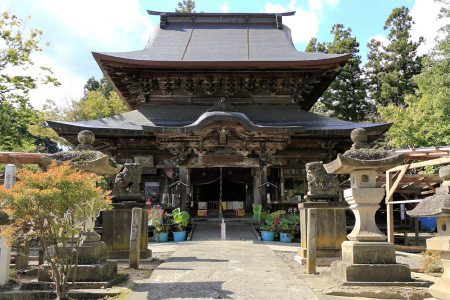 20 min by car
Standing at just over 7 meters high, this giant Senju(Thousand-armed) Kannon statue was carved directly into a sacred katsura tree, and it is said that the tree's roots still remain beneath the statue.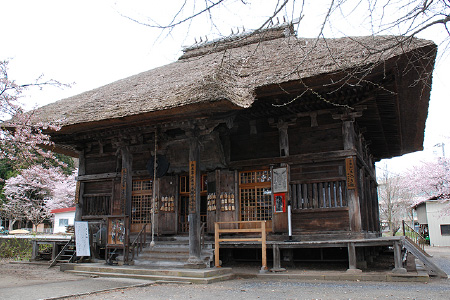 10 min by car
Day 2

The townscape of Nanoka-machi Street perfectly fits the image of the Taisho period. On this street, find Aizu lacquerware that incorporates nostalgic and modern tastes, Aizu cotton whose quality can be felt when touched, old-fashioned confectionery, a sake brewery that has won a gold prize five years in a row, and a local cuisine of Aizu called Dengaku. Close out your trip to Aizu on this street that satisfies both your heart and your stomach.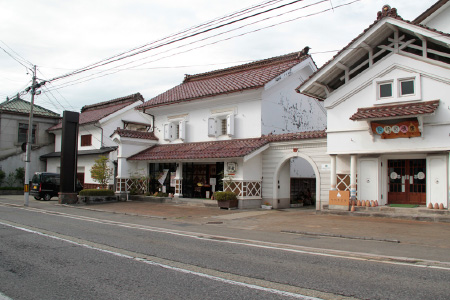 10 min by car

15:30 Arrive at Aizuwakamatsu Station