Day Trip to the Aizuwakamatsu Area to Lightly Explore the Center of Buddhism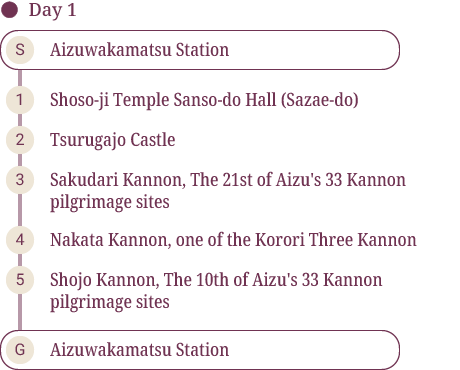 A day trip to the Aizuwakamatsu area to lightly explore the Center of Buddhism.

10:00 Depart from Aizuwakamatsu Station

5 min by car
Also known as "Sazae-do". A Kannon temple that was visited for the Saigoku 33 Kannon Pilgrimage until the end of the Edo period. It has separate one-way paths to go up and down, allowing many visitors to go in and out without passing one another. This type of structure is rare even elsewhere in the world.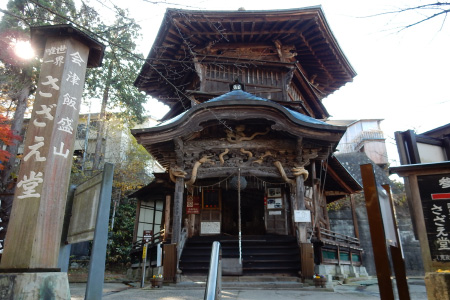 10 min by car
A famous castle with a tower that looks like a crane. It is a symbol of Aizu that is thought of as a must-visit spot by both locals and tourists. The castle center is used as a museum to display various artifacts of the castle. Many visitors also go to see the Prefectural Important Cultural Property in the castle, Chashitsu Rinkaku, the tea ceremony room said to have been built by Shoan, son of the tea master Sen no Rikyu. From 12:00 noon, a Tsurugajo Castle bell ringing experience is led by a volunteer tour guide.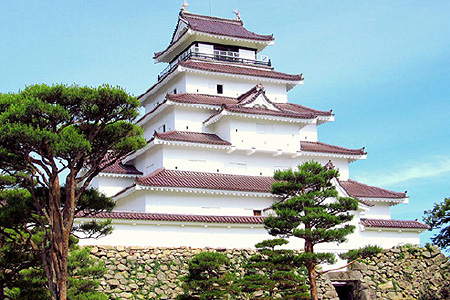 30 min by car
The 21st of Aizu's 33 Kannon pilgrimage sites is Sakudari Kannon of Rinzaishu Sakudariyama Kannon-ji Temple. A splendid three-story structure built by cutting into the stone on a mountainside. It is a scenic spot from which Mount Bandai can be viewed from the edge of the veranda and a large, clear Okawa River can be viewed below. Stories about the hidden stone Buddhist statues continue to be told to this day.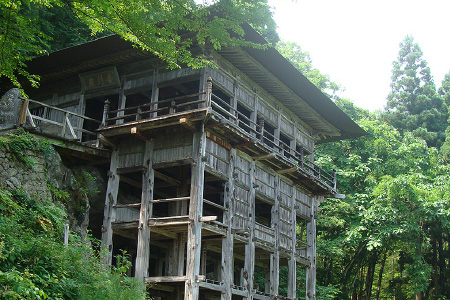 25 min by car
The 30th of Aizu's 33 Kannon pilgrimage sites is Nakata Kannon of the Sotoshu Fumonzan Koan-ji Temple. Shika, mother of the famous doctor Hideyo Noguchi—the bacteriologist who discovered the cause of syphilis and is pictured on the 1000-yen bill—, was a devout follower of this temple. It is said that she prayed here for her son's burns to be healed and for his social success, and that she prayed all day in the temple on the 17th of each month. These stories are left behind in the temple with a photo of mother and son visiting together. One of the Aizu Korori Three Kannon, this temple receives worshipers from near and far who come to put their arms around the "Dakitsuki(Embracing) pillar", which is said to make visitors' desires come true.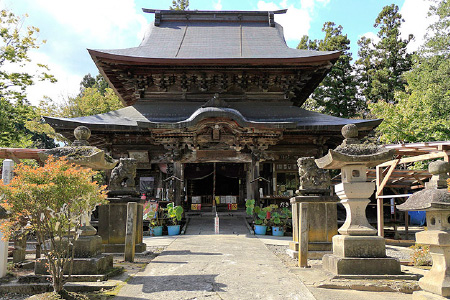 20 min by car
Shojo-ji Temple is an ancient temple that represents the Tohoku region, established by Tokuitsu in 807. With a history of 1,200 years, it houses 12 National Treasures and National Important Cultural Properties that represent the Tohoku region.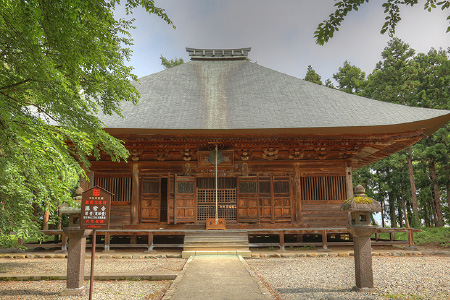 20 min by car

17:00 Arrive at Aizuwakamatsu Station