Japan Heritage and the Beautiful Views of the JR Tadami Line
Central area

Southern area

Western area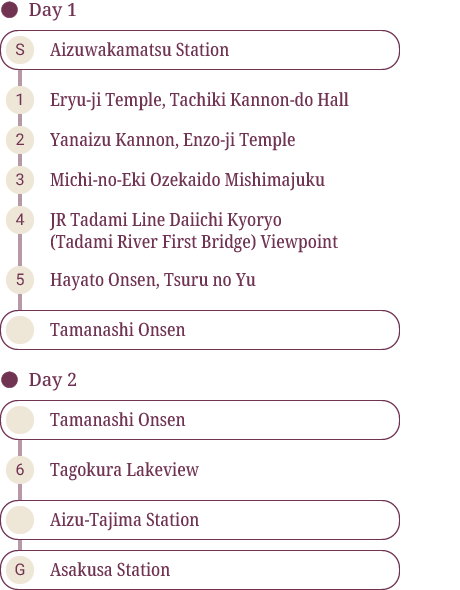 Enjoy the beautiful views of the JR Tadami Line and visit a Japan Heritage, then ride the Liberty Aizu to Asakusa,Tokyo on this one night, two day course.

07:37 Depart from Aizuwakamatsu Station ※JR Tadami Line
8:33 Arrive at Todera Station ※On foot
Standing at just over 7 meters high, this giant Senju(Thousand-armed) Kannon statue was carved directly into a sacred katsura tree, and it is said that the tree's roots still remain beneath the statue.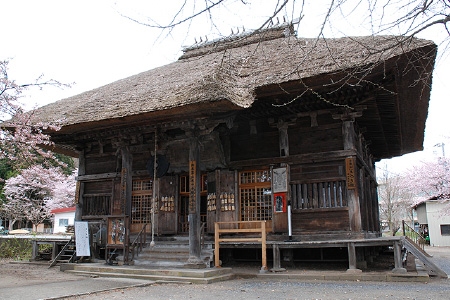 15 min by taxi
Enzo-ji Temple is an ancient temple standing alongside the Tadamigawa River, which flows through Yanaizu Town. It is said to have been built by Tokuitsu, the Father of Aizu Buddhism. It is also said to be the birthplace of the traditional Aizu toy known as Akabeko. Legend says that when a great earthquake destroyed the temple's main hall, a herd of red cattle appeared to help rebuild it, and the Akabeko(red cattle) toy based on them became a symbol of change, perseverance, and power in addition to bringing luck.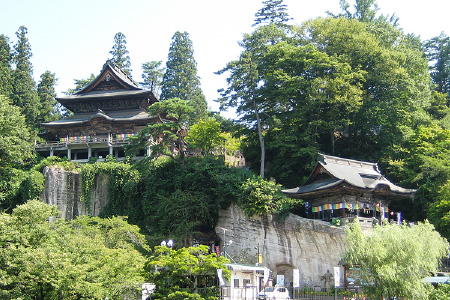 15 min by taxi
Michi-no-Eki Ozekaido Mishimajuku is a Michi-no-Eki(Roadside Rest House) in Mishima Town off of National Route 252. After enjoying a meal full of flavorful Aizu brand-certified chicken bred in Mishima Town, visit the exhibit/sales corner that features the best Aizu princess tree wood goods in Japan and nationally designated traditional Okuaizu woven handcraft goods. The produce corner full of locally-sourced wild vegetables is also popular.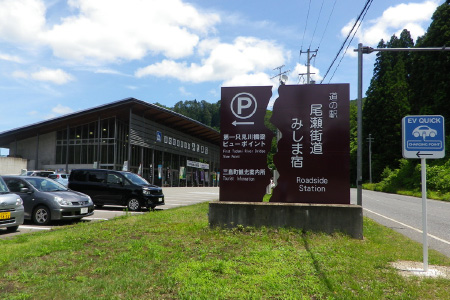 5 min on foot
JR Tadami Line is a local train line known for its beautiful views of the Tadamigawa River and steep mountains, gaining it first place in Tracks with Beautiful Fall Scenery and third place in Local Lines with Beautiful Winter Scenery. Anyone, especially railway lovers, will feel like excited enough to raise their voices when they see the sight from the viewpoint overlooking the Daiichi Kyoryo (Tadami River First Bridge). If you climb about 10 minutes on foot up the mountain ridge from Michi-no-Eki Ozekaido Mishimajuku, you will reach the viewpoint, where you can enjoy the beautiful view of the railway bridge and the surrounding nature. Even without a high-spec camera, visitors can capture the beauty of this view well with any digital camera or smartphone. Trains cross the bridge daily at 9:05 a.m., 9:17 a.m., 1:08 p.m., 2:28 a.m., and 3:59 p.m.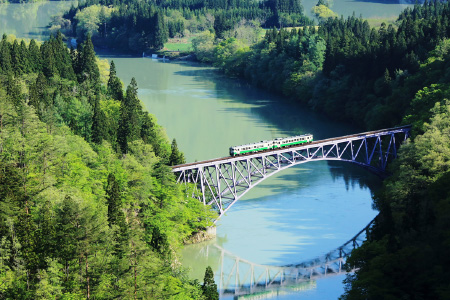 15 min by taxi
Hayato Onsen in Mishima Town is a leading medicinal spring in Japan that has been enjoyed as a spa by many people sine it opened 1,200 years ago. Tadamigawa River flows in great yield with 100% spring water beside the open-air bath, whose beautiful view is recommended to refresh your mind as well as your body.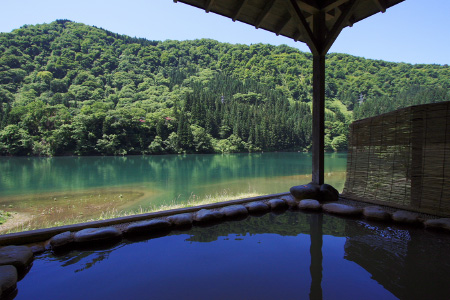 18:29 Depart from Hayato Station

JR Tadami Line
18:47 Arrive at Aizu-Kawaguchi Station

Pickup from lodgings (reservation required)
19:00 Stay the night at Tamanashi Onsen
7:50 Depart from Tamanashi Onsen

Pickup from lodgings (reservation required)
8:15 Depart from Aizu-Kawaguchi Station

※JR Tadami Line substitute bus
9:05 Arrive at Tadami Station
9:20 Lake Tagokura pleasure boat tour departs (reservation required)
Day 2

Tagokura Dam has the greatest output of all hydraulic power plants in Japan. Visitors can enjoy the nature of Tadami from the pleasure boats running on the artificially lake formed by the dam, and they can go fishing for char from the shore in spring.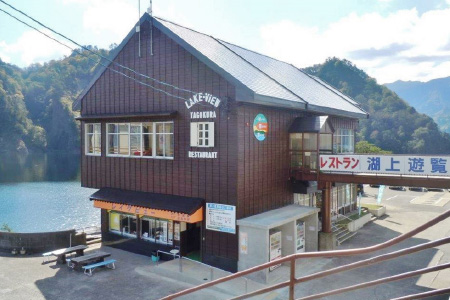 11:15 Arrive at Tadami Station, end of tour
13:10 Depart from Tadami Station

Bus (reservation required)
14:30 Arrive at Aizu-Tajima Station
14:57 Depart from Aizu-Tajima Station

Limited Express Liberty Aizu

18:15 Arrive at Asakusa Station, Tokyo