Visiting Japan Heritage and the Fall Leaves
Central area

Western area

Northern area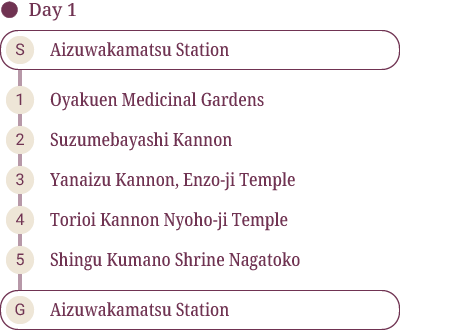 A day trip to visit a Japan Heritage known for its fall leaves.

10:00 Depart from Aizuwakamatsu Station

10 min by car
Medicinal gardens for Aizu domain purveyors and gardens built by the successive Aizu feudal lords. Its name is derived from the circuit style garden that incorporates a pond shaped like the Chinese character "心" (kokoro) in its design, and the medicinal garden that grows a variety of medicinal herbs. Observe the gardens loved by successive feudal lords of Aizu while enjoying a delicious special herbal tea and sesame jelly called "Goma Yokan".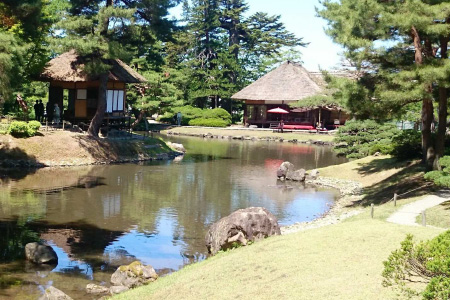 20 min by car
The 29th of Aizu's 33 Kannon pilgrimage sites is Suzumebayashi Kannon of Tendaishu Raidensan Hoyo-ji Temple. One of the oldest temples in Aizu, built in 720 by Saint Tokudo. Once considered the center of Buddhist culture in Aizu until the monk Tokuitsu opened Enichi-ji Temple and spread Buddhism all throughout Aizu.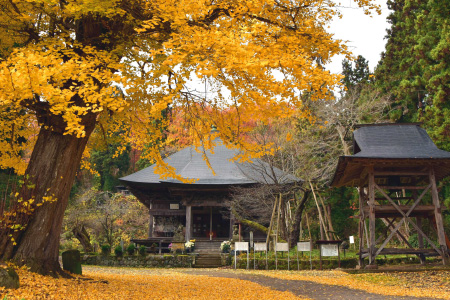 30 min by car
Enzo-ji Temple is an ancient temple standing alongside the Tadamigawa River, which flows through Yanaizu Town. It is said to have been built by Tokuitsu, the Father of Aizu Buddhism. It is also said to be the birthplace of the traditional Aizu toy known as Akabeko. Legend says that when a great earthquake destroyed the temple's main hall, a herd of red cattle appeared to help rebuild it, and the Akabeko(red cattle) toy based on them became a symbol of change, perseverance, and power in addition to bringing luck.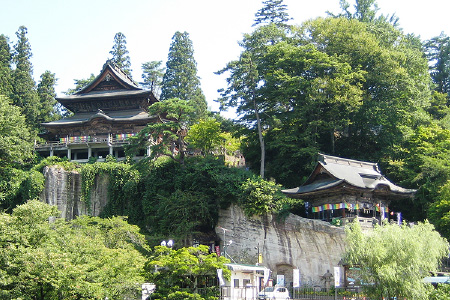 23 min by car
A Kannon temple opened by Tokuitsu. It is one of the Aizu's Korori Three Kannon and is counted as an extra temple added on to the Aizu's 33 Kannon. The principal object of worship of Toroi Sho Kannon was made by Gyoki, and the "Kakure Sanzaru" said to have been made by Hidari Jingoro are also a must-see. Receive a shuin seal dedicated to the Korori Three Kannon and make a good travel memory.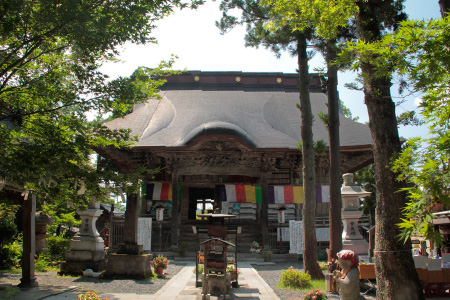 40 min by car
The principal object of worship of the Monju-do Hall of Shingu Kumano Shrine is worshiped by the local people as the bodhisattva of wisdom and learning. It is said that those who can pass under the lion will become more intelligent. Nagatoko, a National Important Cultural Property, is a building made in the shinden style at the end of the Heian period as the Kumano Shrine's hall of worship. The 800-year old sacred ginkgo tree on the grounds creates a splendid sight that adorns Nagatoko from season to season.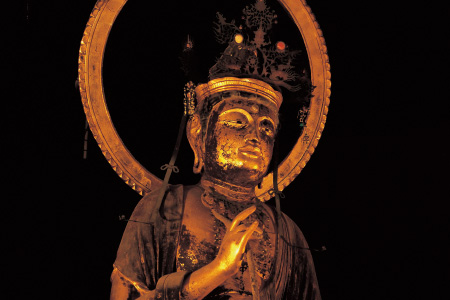 10 min by car

16:00 Arrive at Aizuwakamatsu Station